Hafele Partners with Universal Design Living Laboratory
COLUMBUS, OH – February 13, 2007 – Project director and future home owner of the Universal Design Living Laboratory, Rosemarie Rossetti Ph.D., internationally known speaker, addressed 125 architects/designers and Hafele staff at the New York City Hafele showroom on February 8. Rossetti shared the universal design principles that are being incorporated in her home which is serving as a national demonstration home for universal design, green building and healthy home construction practices. The home is slated to begin construction spring 2007 in Columbus, OH.
Rossetti's mission is to teach and inspire building professionals and consumers about the benefits of universal design. She selected Hafele as a building partner and came with her husband, Mark Leder, to visit the showroom and select products for their new home. "I am very excited to see these hardware shelving inserts that will make it possible for me to reach the items in my kitchen wall cabinets by pulling the shelves down to my level." Rossetti uses a wheelchair for mobility.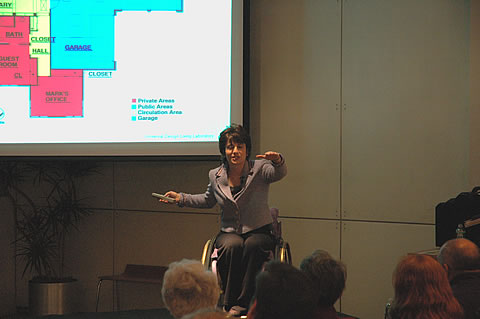 Leder was especially impressed with the Hafele work surface that is power-assisted and height-adjustable. "I was impressed with its precision engineering and smooth and quiet operation." Leder is planning to install this in his home office as an all purpose reading table.
Rossetti told the audience, "I had a great two-story home, promising career, wonderful husband and supportive family. But all that changed while riding my bicycle on a trail in Granville, Ohio, on June 13, 1998. I was crushed by a 3-1/2 ton tree and paralyzed from the waist down." Rossetti came home from the hospital six weeks after her injury knowing that life had been dramatically changed. Her two-story home no longer accommodated her, and she had to adjust to a home that no longer met her needs.
The presentation focused on unveiling the floor plan of this home and showcasing what features limit her from being independent in her existing home. Slides of her current entry, kitchen and bathroom served to illustrate the difficulties she experiences. Rossetti also shared slides of universal design homes that had features that provided for a higher quality of life.
The Universal Design Living Laboratory www.udll.com will serve as a model to help people better understand how to create a more comfortable living environment that will enhance their quality of life. Universal design is a framework for the design of living and working spaces and products benefiting the widest possible range of people in the widest range of situations without special or separate design. Universal design is human-centered design, accommodating people of all sizes, ages, and abilities. It considers a wide range of human needs and abilities throughout a lifespan. However, universal design is not just for those with physical disabilities, it serves the entire population. Features that have been included in the design are invisible, but they enhance the functionality and usability of the home for the long term.
Rossetti's trip to Hafele coincided with her involvement on February 6 in the Rolling with Style Gala fashion show at Cipriani's in New York City. She was selected as one of four national "roll models" and modeled her couture designed wheelchair and business suit designed by St. John. The event was attended by nearly 600 people and raised $1 million for spinal cord injury research. Discovery through Design, a non-profit organization, sponsored this event. www.discoverythroughdesign.org
###