National Demonstration Home Lands Financing from Emerald Bank
COLUMBUS, OH – September 3, 2009 -- In the midst of the national home mortgage crisis, a ray of hope emerged. Emerald Bank, Dublin, OH, has approved financing for Rosemarie Rossetti, Ph.D. and her husband Mark Leder's construction loan for Universal Design Living Laboratory (UDLL).
The national demonstration home will serve as an educational experience to show others better ways to design and build homes to accommodate people throughout their lifetimes, be energy efficient and environmentally conscious. Groundbreaking is set for 10:00 a.m., September 23, 2009, on location in Jefferson Township, in metropolitan Columbus, Ohio.
"I wanted to invest in this project because I am a community banker and community banking is about helping people realize their dreams. It is a terrific opportunity for us," Emerald Bank President Jim Long said. Emerald Bank is providing discounted financing on the construction and permanent loan by reducing the loan fees and interest rate.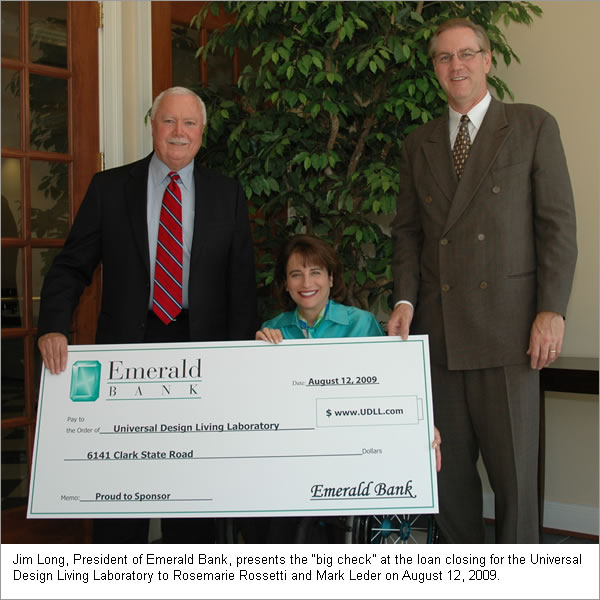 Rossetti is an internationally known speaker and advocate for people with disabilities. She and her husband Leder are trail blazers in universal design home construction. In 1998, a freak accident left her with a spinal cord injury and paralyzed from the waist down. Since then, her traditional two-story home has been unaccommodating.
"Not only is it going to benefit Rosemarie and Mark and allow them to get their dream home, I know it is going to benefit others by having the opportunity to actually view a home that would accommodate people with special needs," Long said.
Rossetti knows from personal experience the difficulties people face when circumstances change due to either injury or simply aging. "My life change was sudden; for others life changes more gradually," Rossetti said.
About UDLL:
The Universal Design Living Laboratory a 3,500 square-foot Frank Lloyd Wright inspired home, located in Jefferson Township in metropolitan Columbus, Ohio, will be a leader in universal, green, and healthy home construction in the United States. Being built by husband and wife team Mark Leder and Rosemarie Rossetti, Ph.D. the national demonstration home will be open to builders, designers, architects, educational groups and the public for tours and will showcase how universal, green and healthy home construction can be included in all new homes and remodeling projects. This "living laboratory" will teach the public how to live in a comfortable environment that enhances quality of life regardless of circumstance, age or abilities. Currently more than 100 international, national and local corporations and organizations are contributing to the building project. The home will be open to the public for tours beginning in the summer of 2010 and ticket proceeds will benefit spinal cord injury research at The Ohio State University.
Editor's Note: High-resolution digital images are available upon request.
# # #