Article:

Container Gardening

Action Magazine

April 2008

By Rosemarie Rossetti

Copyright © 2008 Rosemarie Rossetti

Publication copyright © 2008 United Spinal Association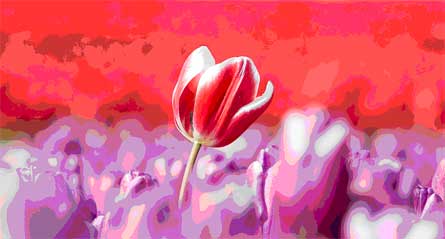 Last month, I noted that container gardening is ideal for people who use wheelchairs. Shop for containers large enough to hold their roots; containers with 10-inch or larger diameters can hold more massive displays of color. This also helps to ensure that water is available to the plants and enhances survival.
For best accessibility, select containers that are 24 inches tall. Containers can be made of clay, concrete, plastic or wood. Realize that clay pots are not frost proof and must be moved to a protected area, like a garage, if your winter temperatures dip below freezing. Plastic pots will last longer if made with ultraviolet inhibitors. Chimney flue tiles and drainage pipes made of fired clay and whiskey barrels also make great containers for the accessible garden. Make sure your containers have holes in the bottom to allow water to drain out.
Plant Selection
Small trees, shrubs, bulbs, annuals, perennials, vegetables, and herbs adapt best to containerized gardening. It doesn't matter if they're evergreen, perennial, or annual. Due to the hardiness of many plants, they should be planted after the frost-free date in your area. (See www.ncdc.noaa.gov/oa/climate/freezefrost/frostfreemaps.html for more info.)
If you are looking to add plants with height to your deck or patio, plant a small tree. Japanese maple, Chinese fan palm, hibiscus, dwarf Norway spruce, and date palm adapt well in a container. For a bushy shrub, consider a Japanese snowball viburnum, rose, potentilla, dwarf juniper or yew, camellia, azalea or rhododendron.
Want to grow vegetables and herbs that you can pick right off your deck? Try tomatoes, peppers, zucchini, broccoli, beans, lettuce, peas, spinach, parsley, dill, basil, and chives. Some vining plants will need to be staked or grown in a wire cage for support. Look for varieties that produce smaller plants. These are better suited for containers.
Vegetable and herb plants need sun, so keep in mind that the west and south sides of your house will be the sunniest. Some flowering plants grow best in sun while others flourish in shade. Use references and read the plant tags as you make your selections. Do not mix plants in your container that are not compatible based on sun tolerance.
To help you select plants that flower all summer in a sunny location, consider geraniums, petunias, salvias, zinnia, poppy, daisy, snapdragons, coreopsis, moss rose, marigolds, and verbena. For flowering plants that are not as sun tolerant and do best in the shade, consider calla lily, begonia, impatiens, fuschia, delphinium, annual phlox, lobelia, nasturtiums, sweet alyssum, and bleeding heart.
Want to have flowers in early spring? Plant tulip, hyacinth, crocus, anemone, daffodil, and grape hyacinth bulbs in the fall.
Summer flowering bulbs are also worth a try. Plant canna, dahlia, gladiolus, lily, and iris in early spring. These do well mixed with annual and perennial flowers.
For sensational fragrance, try blooming plants like gardenia, jasmine, and rose. Some plants have scented leaves to add fragrance to your skin when you rub them. Try sage, rosemary, mint, scented geranium, and lavender.
You can mix or match colors in containers. Using one species in one isolated color can be dramatic. There is nothing more striking than a large pot of red impatiens. Combinations of two or three complementary colors in a single container can be awesome.
In addition to flower color, mix plants in a container based on plant heights, leaf texture, and leaf color. Ornamental grasses and draceana spikes provide height and narrow leaves. Coleus and dusty miller have colorful leaves. An ivy leaf geranium, English ivy, and asparagus fern can cascade over the container's rim for a soft effect.
Planting and Caring
When planting your containers, select a bagged premium potting medium that contains sphagnum peat moss and wetting agents. Also add water retaining/absorbing products in order to ensure that the potting medium holds water for the roots.
To aid in moisture retention, add 1 to 2 inches of mulch to the surface of your containers. There are many products like pine and hardwood barks that work well.
For the continued health and growth of your container planting, monitor the moisture level on a daily basis. Don't wait until your plants are wilting to water them. Warm temperatures and breezes cause plants to dry. Hanging baskets dry out especially fast.
Water is the most limiting factor in having a successful container gardening experience. Water thoroughly, saturating the potting media until you see water coming out of the drainage holes in the bottom of the containers.
A few weeks after planting, it is a good idea to apply fertilizer in each container. Depending on the potting media selected, supplemental fertilizer should be added. Plastic-coated slow-release fertilizer beads like Osmocote can be sprinkled on the surface of the potting media. The fertilizer will be released slowly for several months. Many gardeners prefer to fertilize as they water. Follow the application instructions on the label.
Container gardening is very easy and rather care-free. Plants can be in closer view of where you gaze out of your windows and sit on your outdoor decks and patios. By selecting plants that are suited to the environment and starting them off in a premium potting media, you can enjoy months of living color and a bountiful harvest.
Note: This is part two of a three-part series.
---
Rosemarie Rossetti, Ph.D. is building a national model universal design home in metropolitan Columbus, Ohio. She is an internationally known speaker, trainer, consultant, and writer. To contact Rosemarie go to: www.RosemarieSpeaks.com. To learn more about the Universal Design Living Laboratory go to: www.UDLL.com.