Article:

How to Design a Laundry Room in a Universal Design Home

Action Magazine

January 2007

By Rosemarie Rossetti

Copyright © 2007 Rosemarie Rossetti

Publication copyright © 2007 United Spinal Association
The Mix Residence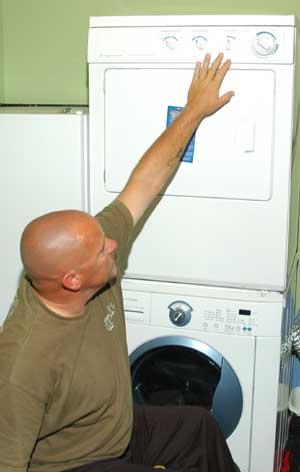 Recently, I was invited to the home of Mark and Jasue Mix in Warsaw, Ohio, to take a look at the universal design features they included when building their 4,400-squarefoot, ranch-style home. The family graciously agreed to share things they would have liked to have done differently in designing the house. Since I am in the process of completing the design for my new home, the Universal Design Living Laboratory, (www.udll.com) I felt that there was much I could learn from the Mix's residence.
Mark is a retired veteran who served as a Navy Seabee in the Iraq War, where he was spinal cord injured. He received a $200,000 grant from the Coalition to Salute America's Heroes (www.saluteheroes.org), a $50,000 grant from the
U.S. Department of Veterans Affairs, and he took out a mortgage for $100,000 in order to fund the construction. The family of five moved into the home in May 2006. When I arrived, I wheeled through the garage and up a steep wooden ramp into the laundry room. The slope is of concern since it is greater than 8%. Mark explained that the builder had no experience building a universal design home and made a few mistakes with this home.
As Mark came into the house and rolled into the laundry room, clothes baskets blocked his path. A full size freezer occupies the corner of this room. To help increase floor space, the family decided to stack the dryer on top of the washer. This allowed for more space for hanging clothes against the wall, but due to the height of the dryer in this position, Mark is not able to access it, compromising his independence (Mark jokes that this may work to his advantage on laundry day!).

The Rossetti–Leder Residence

I can relate to Mark's need for a larger laundry room. In my current home, I am terribly frustrated by the tiny laundry room located off the garage. My wheelchair barely fits in the room as is evidenced by all of the scrapes on the wall and appliances. I use a top-load washer and have to use a reacher to pull out items in the bottom of the tub. It takes forever to do a load of laundry! All that is about to change.
As my husband Mark Leder, our architect Patrick Manley, our designer Mary Jo Peterson and I approached the design of our new home, we realized we could combine the laundry room with the master closet. This wardrobe area will be used for washing, drying, ironing, and storing clothing, and as a center for packing and unpacking clothes for travel. By combining these two areas, we saved floor space while also making sure that I had adequate room––five-foot turning radiuses are marked on the plan––to navigate in my wheelchair.
Besides saving space in the home, I will also be more efficient on laundry day. By having everything in one room, this will eliminate the need for me to haul baskets of dirty laundry and freshly ironed clothing on my lap from one area of the house to another. What a time saver!
In the new home, we will be installing an Iron-a-Way (www.ironaway.com) ironing board center in the wall of the wardrobe. This ironing board is adjustable for the person who is seated as well for one who is standing. I can't wait to see my six-foot, four-inch tall husband ironing! That will be a first!
Our new Whirlpool (www.insideadvantage.com) front-load washer and dryer will make it easier for me to put clothes in and take them out. The units will sit side-by-side and all controls will be within reach. I will have a counter above these appliances in order to store laundry baskets and fold clothing.
The knee space under the laundry room sink will allow me access to roll under it. The center island in this wardrobe area will store folded clothing and serve as a work surface on laundry day. My luggage can be placed on top of this center island, making it easier for me to pack and unpack clothing.
As universal design principles are shared with product manufacturers, and as the market grows for these products, we are seeing more choices in appliances for the laundry room. With the growing demand for universal design features to be incorporated into the home, architects will be more conscientious in planning spaces to allow function to be a primary consideration.
---
Rosemarie Rossetti, Ph.D. is building a national model universal design home in metropolitan Columbus, Ohio. She is an internationally known speaker, trainer, consultant, and writer. To contact Rosemarie go to: www.RosemarieSpeaks.com. To learn more about the Universal Design Living Laboratory go to: www.UDLL.com.