Article:

How to Make Your Home Accessible

Action Magazine

August 2007

By Rosemarie Rossetti

Copyright © 2007 Rosemarie Rossetti

Publication copyright © 2007 United Spinal Association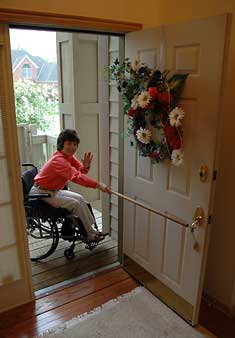 Coming home from the hospital after a spinal cord injury is a traumatic experience. Chances are that the home you left prior to your injury won't work for you in the short- or long-term because of your need for wheelchair access. Modifications and remodeling may be needed.
My homecoming in July 1998 posed plenty of problems since I live and work out of my two story home that has a full basement and no elevator. My husband, Mark, and I knew that quick fixes would be needed in order for me to get into my home.
Mark and I asked Jason, my physical therapist at the rehabilitation center, to help us. Mark provided Jason hand-made drawings of rooms in our home. The dimensions helped Jason identify modifications and equipment that I would need in my bathroom in order to shower and use the toilet. We identified places in the house that would be difficult for me to maneuver. Kristine Palmer, a woman who served as a mentor to me and also used a wheelchair, went to my home to help Mark identify changes that would be needed to make my house more accessible.
The first problem I encountered on the first home visit was the three porch steps to the front door. There were also two steps to the garage entry, and no sidewalk to either of the two back entries, which also have steps. How was I going to get in the house?
Jason suggested that my husband build a wooden ramp. With the help of neighbors and my brother, Mark led the construction project. The ramp allowed Mark to push me up into the house, however, the ramp was very steep and had a sharp 90° turn. It is recommended that an accessible ramp slope be less than 1:12. That is, one foot of run for each inch of rise. In my case, due to the grade of the front yard, a properly sloped ramp would have extended far out into the street!
Several months after my discharge from the rehabilitation center, I received services from the Ohio Bureau of Vocational Rehabilitation. This agency paid for a home modification consultant and the front entry solution. A platform lift was installed in order to raise me 24 inches. The concrete porch slab was elevated by building a wood deck on top of the concrete so it was level with the door threshold. Two new concrete steps were added on the side of the porch. A concrete walk was extended to the new porch steps.
To provide a smooth transition inside the house at the door threshold, a tapered wooden wedge was custom-made to fit over the hardwood floor. It is important that door thresholds are ¼ inch or less. It is difficult to maneuver a wheelchair over a taller threshold, since front casters get caught.
I was fortunate that the 36-inch entry door was wide enough for me to enter in my wheelchair. Oftentimes doorways have to be enlarged. Sometimes special swing clear offset door hinges can be utilized to increase an existing doorway's available opening up to two inches without altering either the door or frame. All hinges on the door will need to be replaced. These hinges are designed to swing the door clear of the opening. The door must open at least 95° to swing completely clear. They can be used on exterior or interior doors—a real bonus for those hard to access bathrooms and bedrooms.
I was fortunate that there are lever handles on all the doors in my home. These are a lot easier to use than round door knobs. For those needing assistance closing the door, there are automatic door closers on the market, as well as spring closers. I use a long stick with a hook on the end to close the door behind me when I leave home.
In order to serve a wheelchair user there must be adequate space to maneuver and open the door. It is also a good idea to have a large rug with rubber backing at the door to roll on when your wheels are dirty, wet, or covered with snow. When my wheels are dirty, I spin around on my 3' X 5' entry rug that is on top of the hardwood floor. I also have a large towel in the guest closet to wipe off my wheels. This has saved me from tracking water and dirt into my house (and my husband from cleaning up after me).
It is also handy to have a package shelf or a bench outside your door so that when boxes are delivered they are left at this higher level instead of on the porch surface. This makes it easier to pick packages up from a seated position. Make sure you have a porch light to make it safer coming home at night and illuminate the door lock.
My entry door has a full length clear glass sidelight on the left side so that I can see visitors at my door before deciding to open the door. If a door does not have a side light, install a peep hole in the door at eye level for the wheelchair-user.
Some of the entry modifications to a home end up being major expensive undertakings. Others involve simpler solutions. As a home is evaluated for wheelchair accessibility, take into account the ease of entry, safety, and independence of the person who will use that entry on a daily basis.
---
Rosemarie Rossetti, Ph.D. is building a national model universal design home in metropolitan Columbus, Ohio. She is an internationally known speaker, trainer, consultant, and writer. To contact Rosemarie go to: www.RosemarieSpeaks.com. To learn more about the Universal Design Living Laboratory go to: www.UDLL.com.