Article:

Modify Your Laundry Room for Wheelchair Accessibility

Action Magazine

December 2007

By Rosemarie Rossetti

Copyright © 2007 Rosemarie Rossetti

Publication copyright © 2007 United Spinal Association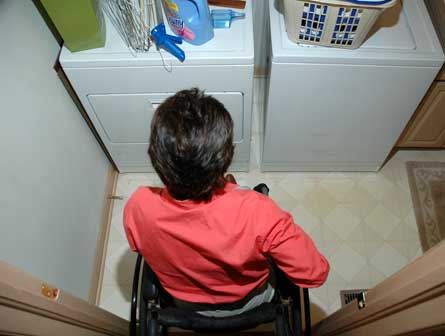 It was months after my spinal cord injury before I did my first load of laundry. The reason why? I couldn't get into my laundry room!
Even though our laundry room is on the main floor, located off of the attached garage, it is still a tight squeeze to navigate my manual wheelchair into the room. When I first got home from the hospital, my husband Mark had to remove the laundry room door to give me enough room to squeeze in. There are still black marks across the front of the washer and dryer, where my wheelchair footrest scraped up against them.
Unfortunately I have a top-loading washing machine. I should have invested in a new or used front-loading machine years ago. For the past nine years, I've used a long-handled reacher to retrieve clothes from the washer and put them in the dryer. I also use the reacher to get clothes out of the back of the dryer. I'm sure that the investment in a front-loading washing machine would have given me more efficiency on laundry day.
For my new home, the Universal Design Living Laboratory (www.udll.com), I have selected a front loading washer and dryer, the Whirlpool (www.insideadvantage.com) Duet Sport with a 10" pedestal underneath. This pedestal will allow these appliances to be at a higher level that will be more convenient for me to use from a seated position. When I went shopping for a new washer and dryer, I approached each machine and evaluated how easy it would be to reach all of the control knobs, soap dispenser and lint filter. Not all front loading washers and dryers are created equal.
When you purchase a washer and dryer set, be aware of the door hinge locations. It is best when the appliance on the left side has the hinge on the left side of the door. It is also best when the appliance on the right side has the hinge on the right side of the door. This will allow you more efficiency when transferring clothes from the washer to the dryer.
You may be tempted to purchase a combination washer and dryer to save space in a small laundry room. Because the dryer is on top of the washer, you will have difficulty reaching the dryer and the control knobs if you are seated and using a wheelchair for mobility.
On laundry day you need to have someplace to hang clothing that you remove from the dryer. There are many brackets on the market that you can attach to your walls at a convenient height for you to reach. Some of these products even fold down when you are not using them.
There are many laundry cleaning products that you will need access to on laundry day. Store them in low cabinets or on shelves that are within your reach. It may be necessary to transfer some of the products out of their original large containers and put them in more manageable containers.
I stack four empty laundry baskets on top of the washer and dryer and use them on laundry day. They are small enough to fit on my lap as I wheel them from our laundry room to our bedroom to put away the clean clothes. We have a 16" diameter by 24" tall round plastic laundry basket that we store in our closet to deposit dirty clothes. I attached small gliders to the bottom so that I can push it across the carpet. I position this basket between my feet in front of the footrest of my wheelchair and "bulldoze" it from my bedroom closet to the laundry room.
As we planned the new house, it became apparent that I was moving clothes around a lot on laundry day. In our new home, there will be a room next to the master bath that contains the washer, dryer, utility sink, ironing board, luggage, and storage space for all hanging and folded clothing. This wardrobe will definitely make laundry day more efficient.
The largest investment needed to make a laundry room more usable is the purchase of a front loading washer. Doors to the room can be removed easily. A room that is more accommodating can take away hours of frustration for wheelchair users who want to take back their lives and get back to doing laundry again.
---
Rosemarie Rossetti, PhD is building a national model universal design home in metropolitan Columbus, Ohio. She is an internationally known speaker, trainer, consultant, and writer. To contact Rosemarie go to: www.RosemarieSpeaks.com. To learn more about the Universal Design Living Laboratory go to: www.UDLL.com.