Article:

New Book Illustrates Beautiful Universal Design Homes

Action Magazine

June 2008

By Rosemarie Rossetti

Copyright © 2008 Rosemarie Rossetti

Publication copyright © 2008 United Spinal Association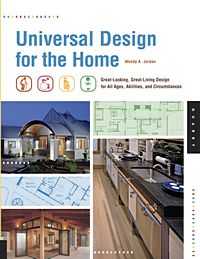 Universal Design for the Home: Great-Looking, Great-Living Design for All Ages, Abilities, and Circumstances, by Wendy A. Jordan; Quarry Books; 208 pp. (ISBN 978-1-59253-381-7)
Anyone planning to remodel or build a home should pick up a copy of Wendy Jordan's new book Universal Design for the Home. Whether you are old or young, single or with a family, working or retired, with or without a disability—it makes sense to borrow a few good ideas from this book.
Based on the premise that universal design is good design, Jordan put together a beautiful high-quality photo gallery of diverse homes and apartments throughout the country. She points out the space design features and products that make each room work so well for the occupants. She also highlights the universal design specifi cations for each project featured. As a bonus, readers will also learn about lighting a room for functionality, safety, and to create the right mood.
The interior designers, builders, remodelers, and architects who crafted each of these homes and apartments really knew how to meet the needs of the occupants. Jordan gives a short history of the family to help readers appreciate the reasoning behind the design.
Jordan includes many brilliant ideas among the pages of the book. You may find yourself saying, "I want that in my home!" The Photographer Credits and Manufacturers sections in the back of the book will help you identify many of the product manufactures. If you still have a question about a particular product shown you can contact Jordan at [email protected]. For the next edition of this book, I suggest that the universal design products in each photo be identified by manufacturer's name and Web site.
I recently spoke to Jordan to find out what motivated her to write this book. She told me that though she has known about and admired universal design for quite some time, she decided to write the book when good friends went through the process of using universal design principles in their home a few years ago. "Designers and builders were not attuned to the idea of beautiful universal design," Jordan said. There were no readily available examples of attractive universal design homes, and information on design features and products was hard to find. "I knew the ideas and products were out there," she continued, "it's just that they were, to coin a phrase, 'inaccessible' to the consumer." Jordan said she wanted to write a book that would bring together the best, state-of-the-art ideas in beautiful universal design; serve as a guide for homeowners, their designers and contractors when researching guidelines; and ease the process of locating attractive, effective universal design products.
Jordan doesn't have a disability but she is aware of the difficulties many building designs pose for those who do. She says that universal design makes sense for so many people, whether they have limited mobility now, want to age in place in their homes, or want to accommodate visitors young and old. Many people, such as families with young children, are attracted to universal design because these homes are open, bright, safe, and livable, she adds.
Jordan heard about universal design years ago in her work as a remodeling and home design journalist. An award-winning writer and editor, she has covered remodeling and home design for more than 25 years, both as editor-in-chief of Remodeling magazine and the author of 11 books on the subject. She also has earned a CAPS (Certified Aging in Place Specialist) designation from the National Association of Home Builders.
Jordan contacted me in September 2006 after learning about my new home, the Universal Design Living Laboratory (www.udll.com). I gave her permission to include our house floor plan and architect's renderings of the wardrobe and front elevation. In the book's four- page section, "The Ultimate Livable Home," Jordan describes the universal design features in our future home, including a few selected specifications.
I asked Jordan how she selected all the projects that are featured in her new book. She said she wanted to include projects that represent a variety of housing types, sizes, price points, and occupant needs. Above all, she was looking for projects that look great and incorporate great universal design ideas without sacrificing style or drawing attention to the accommodations made. She included many floor plans along with room photos in this book.
Jordan indicated that her book brings together the tools needed for homeowners, their designers and contractors to plan beautiful, well-equipped universal design homes. Readers will find creative and attractive designs for every part of the home including kitchens, baths, entries, and the landscape. The back of the book also contains a section on basic universal design standards.
Jordan did extensive research and studies to put together this book. She has given consumers, interior designers, remodelers, architects, and builders something to strive for in their future projects.
---
Rosemarie Rossetti, Ph.D. is building a national model universal design home in metropolitan Columbus, Ohio. She is an internationally known speaker, trainer, consultant, and writer. To contact Rosemarie go to: www.RosemarieSpeaks.com. To learn more about the Universal Design Living Laboratory go to: www.UDLL.com.