Article:

The Seven Principles of Universal Design

Action Magazine

December 2006

By Rosemarie Rossetti

Copyright © 2006 Rosemarie Rossetti

Publication copyright © 2006 United Spinal Association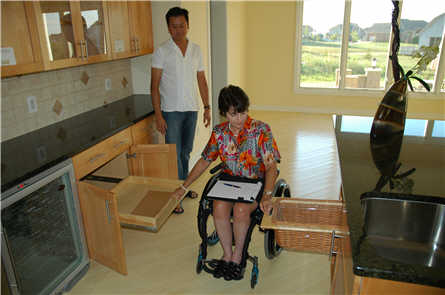 Universal design is a framework for the design of living and working spaces and products benefiting the widest possible range of people in the widest range of situations without special or separate design. My husband Mark Leder and I have been applying its principles as we build our new home, the Universal Design Living Library (www.udll.com) in Columbus, Ohio, which I've written about in previous columns.
Ron Mace, an internationally renowned architect, product designer and educator, is credited with conceiving the term "universal design." He founded the Center for Universal Design at North Carolina State University (www.design.ncsu.edu/cud) in Raleigh in 1989.
In 1997, a committee of 10, under Mace's leadership, wrote the seven principles of universal design. Now 10 years later, these principles are being re-evaluated. In June 2007, the original committee will be joining others to gather public feedback. Edward Steinfeld, director of the Idea Center at the University of Buffalo, will be leading this initiative.
The following principles of universal design have guided my husband and me as we designed the floor plan and selected all of the appliances and furnishings for our home.
PRINCIPLE ONE: Equitable Use
The design is useful and marketable to people with diverse abilities.
• It provides the same means of use for all users: identical whenever possible; equivalent when not.

• It avoids segregating or stigmatizing any users.

• Provisions for privacy, security, and safety are equally available to all users.

• The design is appealing to all users.

PRINCIPLE TWO: Flexibility in Use
The design accommodates a wide range of individual preferences and abilities.
• It provides choice in methods of use.

• It accommodates right or left handed access and use.

• It facilitates the user's accuracy and precision.

• It provides adaptability to the user's pace.

PRINCIPLE THREE: Simple and Intuitive Use
Use of the design is easy to understand, regardless of the user's experience, knowledge, language skills, or current concentration level.
• It eliminates unnecessary complexity.

• It is consistent with user expectations and intuition.

• It accommodates a wide range of literacy and language skills.

• It arranges information consistent with its importance.

• It provides effective prompting and feedback during and after task completion.

PRINCIPLE FOUR: Perceptible Information
The design communicates necessary information effectively to the user, regardless of ambient conditions or the user's sensory abilities.
• It uses different modes (pictorial, verbal, tactile) for redundant presentation of essential information.

• It provides adequate contrast between essential information and its surroundings.

• It maximizes "legibility" of essential information.

• It differentiates elements in ways that can be described (i.e., make it easy to give instructions or directions).

• It provides compatibility with a variety of techniques or devices used by people with sensory limitations.

PRINCIPLE FIVE: Tolerance for Error
The design minimizes hazards and the adverse consequences of accidental or unintended actions.
• It arranges elements to minimize hazards and errors: most used elements, most accessible; hazardous elements eliminated, isolated, or shielded.

• It provides warnings of hazards and errors.

• It provides fail safe features.

• It discourages unconscious action in tasks that require vigilance.

PRINCIPLE SIX: Low Physical Effort
The design can be used efficiently and comfortably and with a minimum of fatigue.
• It allows user to maintain a neutral body position

• It uses reasonable operating forces.

• It minimizes repetitive actions.

• It minimizes sustained physical effort.

PRINCIPLE SEVEN: Size and Space for Approach and Use
Appropriate size and space is provided for approach, reach, manipulation, and use, regardless of user's body size, posture, or mobility.
• It provides a clear line of sight to important elements for any seated or standing user.

• It makes reaching to all components comfortable for any seated or standing user.

• It accommodates variations in hand and grip size.

• It provides adequate space for the use of assistive devices or personal assistance.
In future columns, I will come back to these principles to flesh them out. Simply put, universal design is good design!
---
Rosemarie Rossetti, Ph.D. is building a national model universal design home in metropolitan Columbus, Ohio. She is an internationally known speaker, trainer, consultant, and writer. For more information or to contact her, visit her Web site at www.RosemarieSpeaks.com.