Article:

Universal Design: Eliminate the Fear

50+ Housing Magazine

Summer 2006

By Rosemarie Rossetti

Copyright © 2006 Rosemarie Rossetti

Publication copyright © 2006 The National Association of Home Builders
Seven years ago, I rolled into my home for the first time in a wheelchair. I was looking at my home through a different lens — the lens of a person with a disability. Suddenly, my two-story home became a major source of frustration, limiting my mobility, independence, safety, and comfort. On June 13, 1998 while riding my bicycle, I was suddenly crushed by a falling three-and-a-half ton tree and was paralyzed from the waist down. My life changed in an instant! I had to learn to live with my spinal cord injury, cope with change, adjust, and adapt my life. I also had to transform my home.
Many modifications were made to accommodate my needs at home. An electric platform lift was installed at the front porch and the porch surface was raised in order for me to get into the house. However, I cannot use any of the other three doors to enter my home due to steps at the entrance. Doors on the bathroom, shower, and laundry room were removed to allow me space to get into these areas. Full extension shelves were installed in the lower kitchen cabinets. All of the contents in drawers, cabinets, and the pantry were repositioned to allow me the ability to reach the most critically needed items. Grab bars were installed in the toileting areas. "Reachers," long handled reaching devices, were placed in every room.
As I sit in my wheelchair, I am 4'2" tall. In my home, it is difficult to prepare meals due to the height of cabinets and countertops and the lack of knee space under the sink and cooktop. Many electrical outlets and cabinet shelves are out of reach.
Privacy is nonexistent without doors on the bathroom. I cannot transfer safely to the bathtub, due to the lack of grab bars and height of the tub. Towel bars are totally out of reach.
The laundry room is too tiny to maneuver my wheelchair, and it is difficult removing clothes from the top loading washer. I have no access to the basement or second floor. Rolling on the thickly padded carpet is fatiguing. Some of the closet doorways are too narrow for me to enter, therefore, they are inaccessible. Clothing rods are too high for me to access my wardrobe. The hallways are too narrow for me to turn around in.
I know there is a better way to design homes that would enhance the quality of life for its occupants. What I have learned is that homes can limit our independence. A home design and the design of the appliances used in the home can create disabling conditions that magnify our physical disability.
Universal Design Defined
Universal design is a framework for the design of living and working spaces and products, benefiting the widest possible range of people in the widest range of situations without special or separate design. Universal design is humancentered design, accommodating people of all sizes, ages, and abilities. A home designed with universal design principles certainly makes life easier, not only for those with mobility limitations, but also for those who are short, tall, young, and old. Universal design is for everyone!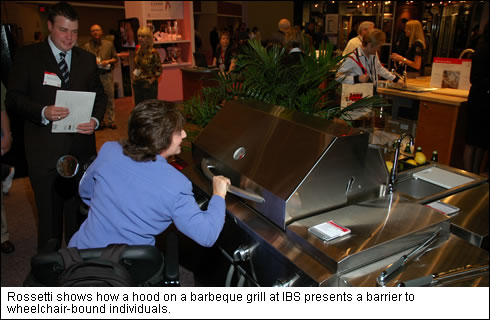 Universal design allows families to age in place. It is less likely that modifications will be needed to the home to accommodate unexpected injuries and illnesses. It is much more cost effective to initially design homes utilizing universal design features, rather than remodeling a home later.
My Search for a New Home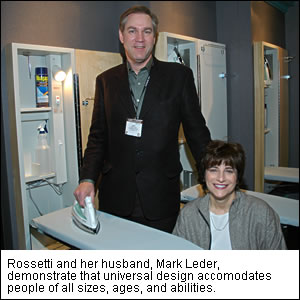 My husband, Mark Leder, and I have been planning to build a new home ever since my injury. We drove through areas of Columbus, Ohio in search of a lot and interviewed builders, reviewed floor plans, and became discouraged. We went to many model homes. No universal design features were included in these models and no options were presented to us by the builders.
Why are builders not incorporating universal design into their floor plans? Why aren't universal design features and benefits discussed with home buyers to identify their current and future needs? The housing market has current, as well as future, needs for universal design features due to the aging population, as well as people with disabilities.
Demographics of Home Buyers
There's an estimated 54 million Americans living with a disability, and 1.8 million people use wheelchairs. There are an estimated 78.2 million baby boomers. Active adults need to think ahead to prepare for future mobility limitations. Body parts do wear out, and 20 million Americans are limited in walking, reaching, or climbing steps. Four million need help walking inside their homes.
Universal Design in a Standard Builder Package
Some builders have recognized the graying of Americans and decided to build universal design features into their f loor plans. One production builder, Dottie Harper, of Providence of Brookfield Homes in Fairfax, Virginia shared her experiences. She was one of three others on the panel with me at the 50+ Housing Council seminar "Successful Universal Design: Eliminate Fear Factor" held during the 2006 NAHB International Builders' Show. Other presenters included my new home builder, Derrick Layer of CV Perry Builders, and Mary Jo Peterson, my kitchen and bath designer from Brookfield, Connecticut.
Harper identified builders' fears such as costs and profit margins when including universal design features. She also discussed fears centered on managing the subcontractors who were unfamiliar with new products and construction practices. In addition, builders have fears in executing construction practices and do not want the construction process to have delays. And of course there's always the fear factor of doing something new! She also pointed out the fact that costs to include universal design features are passed on to the homebuyer. She cited many cases where costs were insignificant, such as installing lever handles on doors instead of round knobs, at an estimated cost of $250 per house.
Peterson stressed that universal design homes do not need to look institutional or hospital-like, since there are many beautiful products such as grab bars with various metallic and color finishes on the market. A properly designed home need not be stigmatized as a home designed only for a person with a disability. The design differences will be noticed by the new homebuyer as soon as they enter the home when they realize there are no steps at the front entry and the doors are 36 inches wide. These are features that benefit everyone.
The cost for universal design features that are included in a new home vary with the product feature. Space configurations need to be carefully planned to ensure wide hallways and spacious bathrooms to accommodate people who use wheelchairs.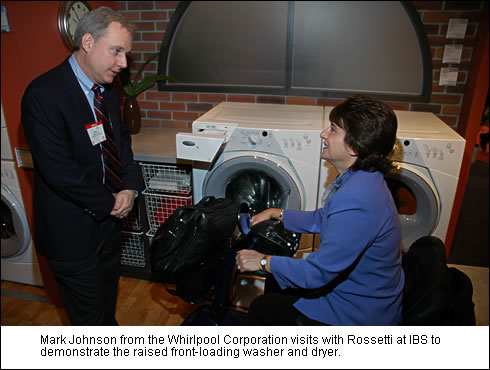 Layer, a semi-custom home builder in Columbus, Ohio, is new to building universal design features in homes. Now that he has been selected to build my new home that is serving as a national demonstration home and Universal Design Living Laboratory, he is very much aware of the fear factors. Layer's message to builders is: "They need to educate themselves and get on board, take the first step forward, and integrate the basic concepts of universal design into their existing floor plans." He notes that semi- and custom builders have a different threshold for pricing homes with more spacious bathrooms and hallways. "It is the builder's responsibility to provide a service to their clients and they need to be educating and providing product to their customers."
The panel agreed that builders should incorporate universal design into new homes at all price points. They recommended that builders need to train their sales staff so they can discuss how these features bring value to the home. They felt that builders have a responsibility to their homebuyers to explain how universal design features can benefit them and their families in the present, as well as the future. As with any new home product, some features are standard, while others are optional. Builders need to evaluate their present floor plans and specifications and integrate universal design into the mix.
Survey of Building Professionals — Universal Design Fears
During the seminar, a survey about universal design fears was distributed to the 100 people in the audience. Fortyfive surveys were collected. The audience was composed of 16 builders, six architects, six developers, three designers, two building products vendors, and two consultants.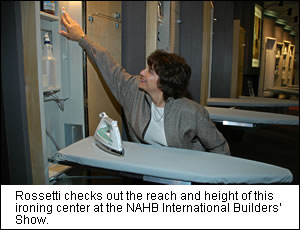 Twenty-seven of the respondents indicated they integrate universal design features into their home building designs or products, while ten do not. For those who do not integrate universal design, a few reasons were cited. Many reported that they were uneducated about universal design, and they felt universal design would not look "normal" to the buyer.
When asked to what extent they felt comfortable building and/or designing universal design features in homes, 16 people indicated they were very comfortable, 21 people were comfortable, and one person was uncomfortable. One person commented that universal design also needs to be emphasized in the remodeling industry, as many homeowners want to remain in their homes and adapt them in order to make room for their aging parents. Respondents also recognized the demand for universal design in the marketplace.
Product Manufacturers and Universal Design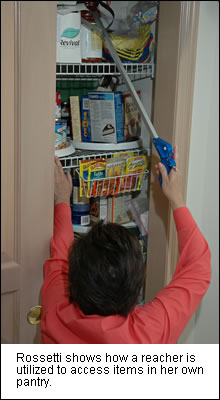 As I was selecting products for my new home at the NAHB International Builders' Show, I interviewed about 30 exhibitors and asked if they were familiar with universal design. Ninety percent indicated they had not heard the term "universal design" before. When I defined universal design and elaborated on the features and benefits included in a universal design home, they acknowledged that universal design was appropriate for today's builder.
Product manufacturers need to add more universal design features to their product lines. They also need to train their sales forces that work with builders to showcase these products as possible replacements for products that do not include universal design features.
When I looked at kitchen and laundry appliances on display in the exhibits, I spotted many universal design features including: frontloading washers and dryers, side-by-side refrigerators, sinks that also contain a cooking element, control dials with easy-to-read knobs, and side-hinged doors on microwaves and ovens. I was disappointed to learn that there are only two manufacturers of ovens with side-hinged doors. For a seated user, a side-hinged door allows closer and safer access than an oven with a bottom hinge.
For bathroom products, I noticed several 18-inch comfort height toilet seats, lever handles on faucets, and grab bars built into the bathtubs. I was also pleased to see shower benches and grab bars that did not look like they belonged in a nursing home.
I approached an outdoor barbecue grill and grabbed the hood handle with one hand. I was surprised to find that I could not budge it, due to the weight of the hood. Product manufacturers need to continue to bring universal design products to market.
I was delighted to see the new ironing center that I could use from a seated position, which would also accommodate my husband at 6'4" tall. Now if only I could motivate him to do the ironing!
---
Here are universal design features to incorporate into floor plans and product specifications.
Step-free entrance (a gradual, level grade; no conspicuous ramps)
All doors without thresholds that are wide enough for a wheelchair or walker (36")
Wider hallways (46")
Lever handles on doors and faucets
Various heights of kitchen counters
Full extension drawers and shelves in kitchen base cabinets
Cooktop set into a counter with open knee space
Side hinged microwave and oven doors at countertop height
Side-by-side refrigerator
Sliding casement or awning windows
An elevator to the basement and/or second floor
Lower rocker-style light switches (36" above the floor)
Higher electrical outlets (25" above the floor)
Large bathroom with decorative grab bars
Wood, non-slip tile and dense weave, low pile (less than 1/2") carpet floors
Large bathtubs with plenty of grab bars
Curbless roll-in showers with plenty of grab bars
Slide bar for shower head
Hand-held, flexible shower fixture
17"- to 19"-high toilet seat
Adjustable hanging closet rods and shelves
Front loading washer and dryer
Open knee space under all sinks
---
Rosemarie Rossetti, Ph.D. is building a national model universal design home in metropolitan Columbus, Ohio. She is an internationally known speaker, trainer, consultant, and writer. To contact Rosemarie go to: www.RosemarieSpeaks.com. To learn more about the Universal Design Living Laboratory go to: www.UDLL.com.