Article:

Universal Design - Satisfying a Growing Market

Nation's Building News

April 11, 2005

By Rosemarie Rossetti

Copyright © 2005 Rosemarie Rossetti

Publication copyright © 2005 The National Association of Home Builders
There is a growing market of buyers ready to cash in their savings and invest in new homes who are asking their builders for home designs that will suit their needs, last them a lifetime and allow family members of every age and ability to live with them.
Many builders are routinely integrating universal design principles in their new home construction and remodeling projects to meet this demand.
Universal design principles have been around since the 1970s, with roots at the Center for Accessible Housing at North Carolina State University. Broadly defined, universal design means that products are universally accommodating and convenient for all users — regardless of age, height or physical limitation.
This inclusionary design considers a wide range of human needs and abilities throughout a lifespan. It has helped family members with limited mobility, hearing or vision, but it serves the entire population, not just those with physical disabilities. Features that have been included in the design are invisible, but they enhance the functionality and usability in the long term.
There are two reasons for including universal design features in a home:
To meet an immediate need
To plan ahead so the home better fits future needs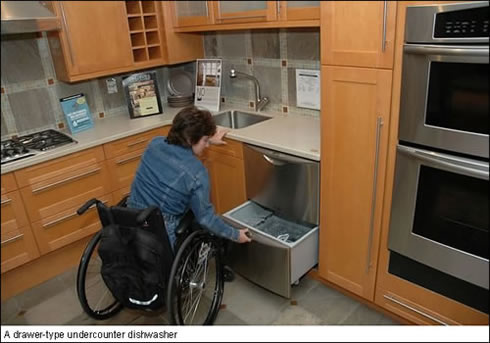 Incorporating universal design features does not necessarily substantially increase building costs. Simple modifications include using wider doors, lever type door handles and faucets, casement windows, wider hallways and multiple height kitchen counters and installing grab bars in bathrooms.
Universal designed homes are not only barrier free and accessible for people who use wheelchairs or walkers, they eliminate the stigma and special appearance of being built for people with disabilities. From the outside, these designed homes look no different from others on the block. Yet spaces and features are more useable by more people and can be adjusted to meet individual needs.
Products to make a home more livable through a lifetime are generally available in the marketplace. Often designated as "accessible" or compliant with the Americans with Disabilities Act (ADA), many manufacturers have showcased these products at builders' shows, in their catalogues and on their Web sites.
America Is Graying
Americans are living longer. Census projections estimate that in 30 years, more than 20% of the population will be over 65. More and more people among this aging population prefer to grow older — and maintain their active lifestyles — in their own homes rather than a skilled nursing facility. They prefer their comfortable surroundings, and the cost of home health care is significantly lower than the average cost of living in a nursing home.
So it makes sense for home buyers and home owners to live in homes that provide livability for the long term — to have a home that provides more independence. And it makes sense for builders and remodelers to meet that need.
The Disability Population
There are an estimated 54 million Americans with a disability and 1.8 million use wheelchairs. The biggest cause of disability is age. More than one-third of people over 60 have at least one disability.
Oftentimes, mobility and dexterity is impaired and people use wheelchairs, walkers, crutches and canes for mobility and obstacles in their own homes impede their ability to maneuver.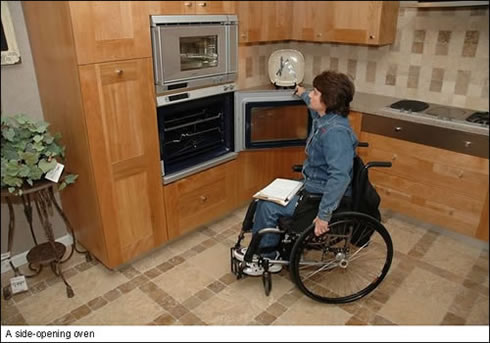 My Life Changed in an Instant
I had a great two-story home, promising career, wonderful husband and supportive family. But all that changed while riding my bicycle on a trail in Granville, Ohio, in June 1998. I was crushed by a 3-1/2 ton tree and paralyzed from the waist down.
I came home from the hospital six weeks after my injury and found that my family and neighbors had built a ramp into my home so my husband, Mark Leder, could wheel me inside.
I knew that life in a wheelchair was going to be hard to get used to, but as professional speaker, trainer, consultant, writer and publisher, I wanted to get my life back — fast.
When a person with a disability has a barrier in their home, it creates a handicap. I struggled to push myself in my wheelchair in carpeted rooms. My arms and shoulders were weak. Doors had to be removed so I could enter the laundry room, bathroom and shower. Over half of our house was off limits to me, including Mark's second floor home office, the guest bedroom and bathroom and the basement.
Frustration mounted quickly, but over time, I learned to be more patient, to redefine normal and to live in my home as best as I could.
Disabilities can be invisible when barriers are eliminated by architectural design and Mark and I began dreaming of building a new home, one that would be totally wheelchair accessible. Last June we began the process of designing and building a modest-sized home with two home offices, a master bedroom suite, guest bedroom and bath, kitchen, great room, screened-in porch and four-car garage. We didn't want a dining or living room, but we did want our laundry facility in the master bath.
Our design process involved identifying the barriers in our existing home and eliminating them in our new home. We wanted our home to look "homey," not hospital-like. The following are some of the features we plan to incorporate in our home:
Step-free entrance (a gradual, level grade; no conspicuous ramps)
All doors without thresholds that are wide enough for a wheelchair or walker (36 inches wide)
Wider hallways (46 inches wide)
Lever handles on doors and faucets
Various height kitchen counters
Adjustable kitchen cabinets
Cook top set into a counter with open knee space
Sliding casement or awning windows
An elevator to the basement
Lower light switches (36 inches above the floor)
Higher electrical outlets (25 inches above the floor)
Large bathroom with decorative grab bars
Wood, non-slip tile and a dense weave, low pile (less than 1/2-inch) carpet floors
Large bathtubs and showers with plenty of grab bars
Slide bar showerhead
Hand-held, flexible shower fixture
Adjustable hanging closet rod and shelves
Open knee space under all sinks
Mark and I attended the Builders' Show in order to learn more about the products and get additional input on the floor plan design. When we came home, we continued meeting with the architect to finalize the floor plan. We plan to start construction this summer and hope to have it completed by next spring.
The home is being built, in part, to serve as a learning laboratory and national model to showcase universal design products, design features and technology. Since my injury, there have been many turning points and milestones in my recovery. I am hopeful that my new home will serve as a milestone for many.
---
Rosemarie Rossetti, Ph.D. is a professional speaker and Ms. Wheelchair Ohio 2004. For more information or to contact her, visit her Web site at www.RosemarieSpeaks.com.